May 2002 Featured items
(click on image to enlarge, click on speaker to hear sound sample made from that record)
1 Tom Clay "Remember, We Don't Like Them We Love Them" on Official IBBB Interview 97436

The Beatles Interview With Tom Clay
ID # 4831 $ 350.00 *SOLD*
PS: EX+, Vinyl: EX, Membership Card: NM, Envelope: VG+
What a tremendous find this was! I got a box of unsleeved, mostly vg- records at an estate auction. As I went through the box pulling out the ones that looked good enough to clean up and sell, I reboxed everything in 45 rpm storage boxes. When the original, beat up box was empty of records I was about to throw it away when I decided to remove a few pieces of folded up newspaper from the bottom of the box. Under the newspapers was some separator cards from an old 45 carrying case, and in the middle of them was a 7 3/4" x 7 3/4" manila envelope. I opened it up and here is what I beheld:
The Outside of The Picture Sleeve: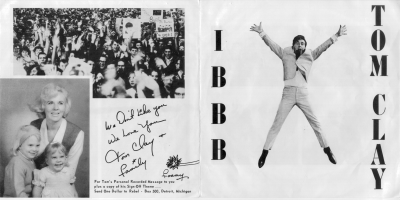 The Inside of The Picture Sleeve: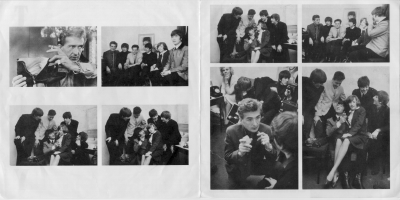 The Vinyl Record: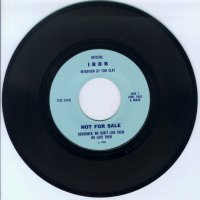 The Blank Membership Card: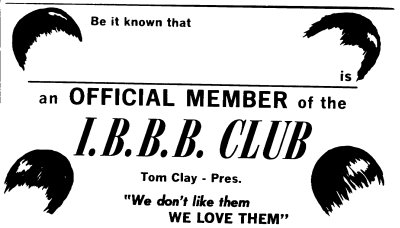 All Inside This Envelope: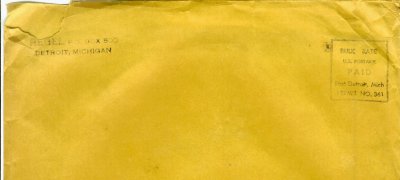 This is being sold as a complete set only!
Now the fine print - here is everything that I could find wrong: The envelope is somewhat crunched on all four corners, the upper left corner is torn, the return address "REBEL P.O. BOX 500, DETROIT, MICHIGAN" is a little faded but clearly legible as is the BULK RATE postage stamp on the right side. I only scanned the top half of the envelope to protect the privacy of the original owner, it was mailed to a Philadelphia address. The picture sleeve, which is a fold-over style not an envelope style, has only some gentle wrinkles - the scanned image seems to exagerate them, it looks much better in front of you. There is just the beginning of yellowing due to age. The vinyl has a few light surface scuffs which do not affect play. And last, there is a slight warp (not affecting play) which I only noticed when I looked at the edge of the record while it was spinning on the turntable to make the sound clip for this page.
This is a rare find indeed!
***** ***** *****
2 Marv Johnson: "Come To Me" on Tamla 101

Here it is - a classic - do you need this one for your Motown collection?
This is the (oh so rare) first record issued on the Tamla label. It doesn't show up very often in any condition.
Although it looks pretty scruffy, it plays very nice, click the speaker icon and give a listen, maybe not suitable for framing but you can give it few spins on the old turntable and please the crowd. If you can find another copy, it probably looks better than this one, but you may not ever find another copy.
ID # 4824 VG- $70.00 *SOLD*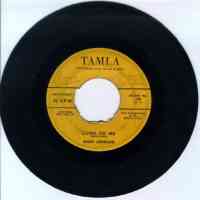 ***** ***** *****
3 Marv Johnson: "Come To Me" on UA 160

ID # 3073 VG- $ 8.50 *SOLD*
If you just like the song, then here's another copy at a much more reasonable price. It doesn't look much better than the Tamla piece, and it does have some surface noise but overall, not a bad record.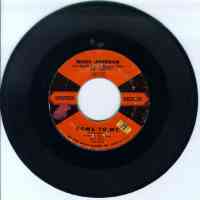 ***** ***** *****
4 The Rolling Stones -" Tell Me (You're Coming Back)" on London 9682

ID # 4832 EX/EX $150.00
The Stones are going on tour later this year (maybe their last?), heck, they're older than me and I'm in my mid-fifties! Here's one of their early ones that is getting harder and harder to find.
***** ***** *****
5 The Beatles: "She Loves You" on Swan 4152

ID # 4833 EX/EX $150.00
Here's an early Beatles piece, Picture Sleeve and Vinyl are both in excellent condition, with just the faint beginning of ring wear starting to show on the white part of the PS.
***** ***** *****
6 The Cadillacs: "Speedoo" on Josie 785

ID # 4706 VG $30.00
Here's a great doo-wop piece from the late 50's on the original light brown label with brown print and the JOZ logo.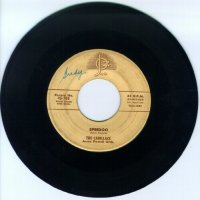 ***** ***** *****
7 Dean Christie: "Heart Breaker" on Select 715

ID # 1237 EX+ $20.00
Here's an obscure little piece from 1962, does anyone remember it? I don't think I've heard it on the radio in over 30 years but I still like it. I stumbled across it in a local vinyl shop - bought both copies, one to keep for me and for sale.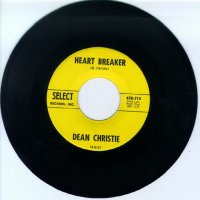 8 The Rolling Stones: "Paint It, Black" on London 901

Here's another early Stones record. The vinyl is EXcellent but the PS has some damage to it. There are a couple of holes where staples were removed, and a few small tears at the top edge. The picture section is pretty clear, clean and sharp.
ID # 11969 VG-/EX $22.50 *SOLD*
***** ***** *****
9 The Righteous Brothers: Box Set Verve CS 5-8
ID # 4825 thru 4829 VG/NM $120.00
Sold as a complete set only.
Here's another rare one - this was a 1967 box set release that Verve issued to disc jockeys only. Of the ten sides included here, only four had been previously released on a single. This is a must have for the serious collector of "Blue Eyed Soul". I included a few sound clips, give a listen to their version of "My Girl" it will blow you away! The box is a little worn and dirty but inside the box is a spare front cover photo that is in NM condition. All the vinyl is NM.
The box, front and back:
Spare front cover photo and short biographies included inside box
Scan of one record - they are all NM
The Play List:
"You're My Soul And Inspiration"

b/w "Go Ahead And Cry" on Verve 10520

"Hold On I'm Comin" b/w "He Will Break Your Heart"

on Verve 10521

"I Believe" b/w "Melancholy Music Man" on Verve 10522

"Island In The Sun" b/w "I (Who Have Nothing)" onVerve 10523

"My Girl"

b/w "Something You Got" on Verve 10524
***** ***** *****
I will be adding more pages like this as time permits, I would like to have a new one each month, but it is very time consuming, this one took over 40 hours of labor to prepare and present to you.