August 2001 Featured items
(click on image to enlarge, click on speaker to hear sound sample made from that record)
1 The Dappers: "Come Back To Me" on Peacock 1651
Full(6MB)
30sec.(600KB)
ID # 11665 VG-(?G++?) $ 45.00 *SOLD*
This is a rare one from the 50's. Osborne's Price Guide list this at $250 to $350 for a NM copy, since this is not even close to NM, I'm only asking about 15% of that price. It does have a little noise in the beginning, and a serious scratch near the end, but you be the judge - see the scanned image below and listen to the full song by clicking on the speaker icon.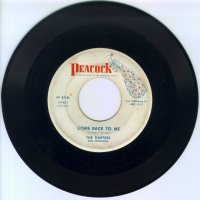 2 Frankie Love: "First Star" on La Rosa 101
Here is a beautiful ballad from 1961 that has been completely overlooked by commercial radio. I have only heard it on the air twice in the past 35 years.It took me nearly four years to find this clean copy.
ID # 1257 EX+ $25.00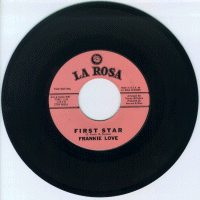 3 Illusions: "Hey Boy" on North-East 801
ID # 2701 VG++ $ 95.00
Visually this is NM suitable for framing, but sorry to say, it has a little surface noise in the beginning. Still a great Doo-Wop sound from the early Sixties. It is one of the good ones that you NEVER hear on the air.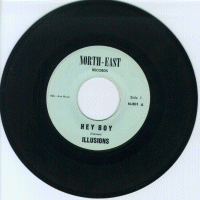 4 James And Bobby Purify: "I'm Your Puppet" on Sphere Sound 77004
ID # 3720 VG- $10.00 *SOLD*
This label isn't quite as bad as it looks here, my scanner has a hard time with the dark labels. The vinyl does have a scratch so it plays with a slight 'tic' (thus the low price).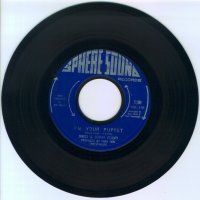 5 Dwight Pullen: "Sunglasses After Dark" on Carlton 455 (Promo)
ID # 3807 VG $75.00
Condition: Visual VG- Play Grade VG+
Here is a Rare, early Hard Core Rock & Roll piece that is probably missing from your collection!! There is some WOL and label wear, visually the vinyl looks to be in about the same shape as the label with light scratches and scuff marks but it plays CLEAN - just listen to the sample. You don't stumble across this one very often.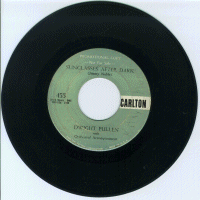 6 The Dreamlovers: "Zoom Zoom Zoom" on Heritage 107
ID # 2698 EX+ $75.00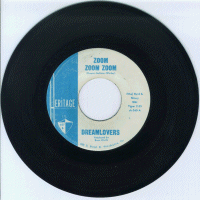 7 The Metros
I have here both the Mono and Stereo versions of this Classic Soul LP. No collection is complete without at least one of them.
Mono LPM-3776: "Since I Found My Baby"
/ Stereo LSP-3776: "Since I Found My Baby"
Mono LPM-3776: "Sweetest One"
/ Stereo LSP-3776: "Sweetest One"
ID # LP-406 (MONO) EX/NM $85.00 / ID # LP-407 VG+/VG+ (STEREO) $95.00
Also available from my personal collection (although I don't want to sell it) Not pictured here, No ID# Stereo LSP-3776 NM/NM $225 - from the estate of a retired RCA executive
8 Randy And The Rainbows: "Denise" on Rust 5059
B/W "Come Back"
Everybody knows "Denise" a classic Doo-Wop hit from the early 60's, but did you ever flip it over and check out "Come Back"? This is another great tune from these 'One Hit Wonders'. This is a great record - it belongs in every jukebox. And for some reason, it seems to be getting harder and harder to find a decent copy.
ID # 3063 VG++ $7.50 *SOLD*
9 Lou Johnson: "Magic Potion" on Bigtop 3153
B/W "Reach Out For Me"
ID # 3813 EX+ $25.00 *SOLD*
I will be adding more pages like this each month.